Travel
3: ENJOY WATER ACTIVITIES SAFELY BY DOING YOUR RESEARCH BEFORE YOUR VISIT!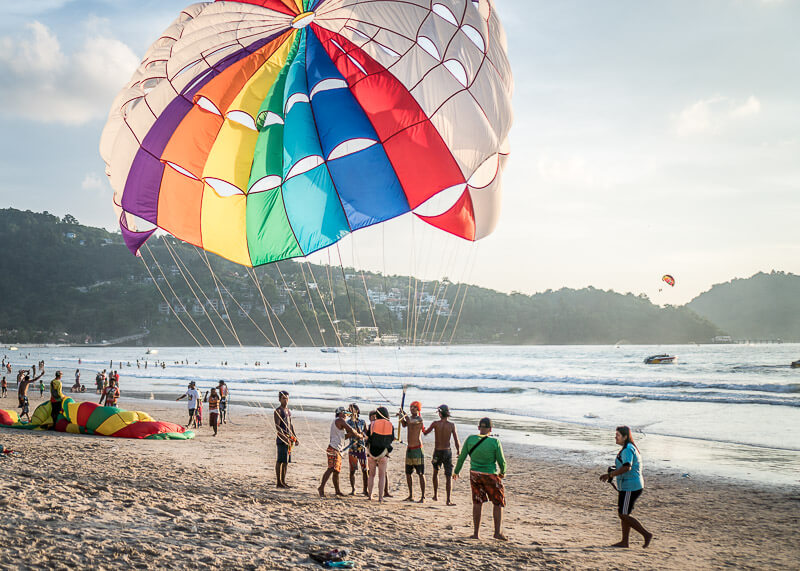 Water activities at Patong Beach can be fun but make sure to stay safe! Here is a photo where one passenger is getting unhooked from the parasail while the other passenger is quickly getting unhooked. It all happens in the span of a few seconds!
If you're looking to do water activites in Patong, I highly recommend you research on vendors and plan in advance before your visit to Phuket. Otherwise, you might feel impulsive and book a water activity while on the beach and not realize until it's too late that safety wasn't the vendor's priority. Take the parasailing activity and the shenanigans that I saw while in Phuket as an example.
The parasailing process looks something like this: once they have a customer (1,300 baht for a five-minute parasailing ride), they get the person ready by putting on a tattered harness and life jacket. The tourist waits in the landing area for the parasail and boat to come back to the beach. Once the parasail lands on the beach, the workers spend two seconds unhooking the first tourist who just finished his/her session and hooking the second tourist for the next ride. They also have this guy (I call him a ninja) who joins the tourist on the ride… he doesn't wear a harness and he's just balancing himself between the ropes! As you can imagine, I don't think safety is a priority for some of the vendors providing water activities in Phuket. For that, I highly suggest you do your research online and
book in advance if you are dying to do some fun water activities in Phuket
.